ANTIQUE PAINTED BENCH (MID 1800'S)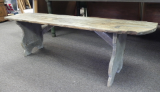 Click to enlarge image(s)
PAINTED BENCH (MID 1800'S)

The terms water, wash and sitting are all used to describe this particular style bench, whatever term one chooses, its uses are too numerous to list.

Few pieces of furniture are as adaptable as the simple wooden bench. Called into service for countless home and garden chores, their slim design makes them easy to sit almost anywhere: at the end of a bed, as a coffee table, as a display spot for a collection of crocks, decoys, baskets, etc. or, just for extra seating when needed.

The wonderfully worn and weathered painted surface of this bench bears witness to a long dutiful life. The craftsman added flair with elaborately scrolled ends and half moon cut outs while not overlooking construction details. Ends mortised through top of bench and mitered back braces center to end for added strength and support.

Form function and great surface patina, a winning combination.