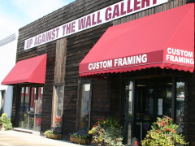 Search by Keyword

REGGIE BIRCH " MERGANZER "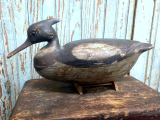 Click to enlarge image(s)
" REGGIE BIRCH MERGANZER " #4
VERY STYLISH REGGIE BIRCH. HOLLOW-CARVED MERGANZER, TWO-PIECE CONSTRUCTION AND PAINT AGED TO LOOK OLD. INLETTED WOODEN BILL. NAIL HEADS EXPOSED AND RUSTED THROUGH. SPLINED BILL, GLASS EYES. SMALL CHECK ON RIGHT SIDE, CONTINUOUS FROM TOP TO BOTTOM. ADDS TO LOOK OF DECOY.
15" TIP OF BEAK TO TAIL.
Note:
All prices in US Dollars