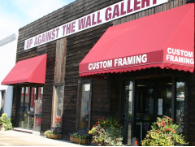 Search by Keyword

JERSEY-STYLE BRANT " HUNTING DECOYS "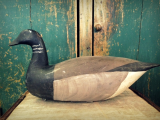 Click to enlarge image(s)
JERSEY-STYLE BRANT HUNTING DECOY #26
SEVERAL DECOYS TO CHOOSE FROM, ALL JERSEY-STYLE BRANT HUNTING DECOYS. CAN BE PURCHASED SEPERATELY, IN A GROUP OR A PAIR. CAL THE STORE DETAILS. (423)246-7210.
OLD, WORKING RE-PAINT, LEAD WEIGHT AND LINE RING ATTACHED. HOLLOW-CARVED, SIX BRANT DECOYS ARE AVAILABLE. PLEASE CONTACT US FOR SPECIFIC PICTURES OF EACH DECOY. THIS COLLECTION WOULD BE FABULOUS DISPLAYED ON A SHELF.
APPROX. 18" LONG, 8" TALL.
Note:
All prices in US Dollars