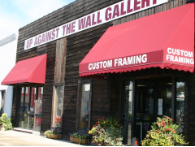 Search by Keyword

" DANNY BRANNOCK SWAN "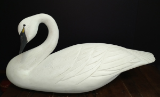 Click to enlarge image(s)
" DANNY BRANNOCK SWAN "

THIS FABULOUS DANNY BRANNOCK OVERSIZE SWAN IS A HOLLOW CARVING WITH RAISED WING FEATHERS AND THE MOST BEAUTIFUL TURNED STYLISH NECK AND TILTED HEAD. THE PAINT IS A WHITE ANTIQUED CRACKLE PAINT WHICH ADDS TO THE OVERALL BEAUTY OF THIS WONDERFUL SWAN. THE SWAN WOULD BE A NICE ADDITION TO THE TOP OF AN OVERSIZE CUPBOARD, A FIREPLACE HEARTH, OR ON TOP OF A LARGE FARM TABLE DECORATED AT CHRISTMAS.
THIS SWAN IS A VERY SPECIAL BIRD AND WAS NOT FORCED TO FLOAT AS A CONFIDENCE DECOY IN FRONT OF THE OFF SHORE BLIND ON THE CHOP TANK RIVER WHERE THE DECOY WAS CARVED. THEREFORE, THE CONDITION IS MINT. THOSE OF YOU THAT KNOW THOSE HUNTERS THAT HUNT THE CHOP TANK RIVER BLIND SURELY KNOW WHERE I AM COMING FROM WITH THE COMMENT ON THE CONDITION.
THE SWAN MEASURES 39" LONG X 19 HIGH X 17 WIDE.
Note:
All prices in US Dollars