ANTIQUE UNPAINTED BENCH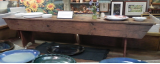 Click to enlarge image(s)
Bench (UNPAINTED)
A staple of raw American life. Simple, functional, sturdy and straightforwardly practical.
Benches have adapted to a multitude of uses for centuries. It appears this bench was never painted, its natural surface having acquired a soft warm nut brown patina over the years.
Probably hand fashioned on the home place to endure daily use both indoors and out. The crafter utilized old pine boards and cut nails to construct this country classic. The half moon cut out ends plus the addition of a shaped 6 1/2" deep apron on each side provides a finished look to this early bench.