ANTIQUE NATURAL STORAGE RACK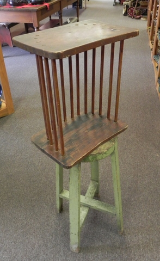 Click to enlarge image(s)
NATURAL STORAGE RACK
Unusual – yes, but what is it?
Quite frankly we don't know the craftsman's intended purpose but felt this unique piece had a feel of whimsy about it. JUST A FUN PIECE! The wood spindled design is quite simple lending itself to any décor from primitive to modern. Perfect for magazines / newspapers or perhaps in the kitchen filled with cutting boards, trays, platters, etc.
SEEN HERE ON A GREEN STOO WHICH IS SOLD.