ANTIQUE WALL RACK: (1790 to 1820)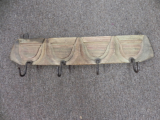 Click to enlarge image(s)
WALL RACK: (1790 to 1820)

Not your ordinary wall rack, this one was probably used to hang game and or fowl after the hunt and is normally referred to as a game board or meat rack.

The craftsman's artistic talents and carving skills truly shine. Very special and quite unique, the surface is profusely decorated and completely covered with intricately carved symmetrical and multiple scallops, swirls, wave like patterns, reeding, etching, and geometric motifs. The board's four shepherds crook iron hooks and two wall hangers are hand forged. The hooks securely fastened through the back of the rack.

A special note: is the best age softened satin smooth surface patina, as found, untouched condition. Decorative and useful to display a collection of baskets, hang herbs / flowers to dry or use for coats, hats, scarves or even necklaces.