BOURBON & BOWETIES " FLAT RED NUGGET "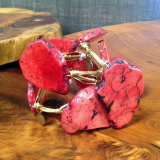 Click to enlarge image(s)
" BOURBON & BOWETIES "
FLAT "LIGHT RED", WITH A HINT OF CORAL, AND SOMETIMES HINT OF ORANGE, SMOOTH NUGGET- STONE, AND EACH STONE DIFFERS SLIGHTLY IN SHAPE, SIZE AND COLOR.
BUT STONES ARE WIRED CLOSE TOGETHER AND ARE LARGE, WHICH MAKES FOR A SMALLER BANGLE. (RUNS SMALL) THIS PARTICULAR BANGLE IS SIGNIFICANTLY SMALLER THAN AN AVERAGE "STANDARD" BANGLE.
LARGE STONES.
7.5"D STANDARD SIZE