P. BUCKLEY MOSS " DEAR LORD " & " AMEN " FR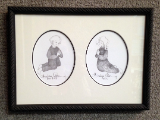 Click to enlarge image(s)
P. BUCKLEY MOSS
" DEAR LORD " & " AMEN "
TWO COMPLIMENTARY PRINTS, FRAMED TOGETHER.
BLACK AND WHITE 2009 SHOW PRINT-
THESE PRINTS WERE PURCHASED ON THE SECONDARY MARKET. THEY WERE AVAILABLE ONLY TO ATTENDEES OF THE 2009 P. BUCKLEY MOSS SHOW.
VERY RARE PRINTS.
" FABULOUS BABY GIFT "
3/4" BLACK ROPE FRAME WITH BLACK
INNER MAT, CREAM OUTER MAT.
100 % COTTON RAGLAND MATS, MUSEUM QUALITY.
FRAMED: 10" X 13.75