RAY POTTERY " BACON COOKER " BLACK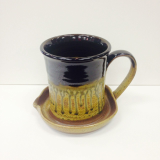 Click to enlarge image(s)
RAY POTTERY
BACON COOKER
BLACK

Simply drape each slice of bacon over the edge of the cooker.
(half in - half out)
Microwave one minute per slice.
Grease drops into handy saucer for clean and easy disposal.
Dishwasher safe.



*caution*




When removing cooker from microwave, place on a cloth hot pad or safe alternative, NOT in a wet sink or on a countertop because extreme temperature change can cause damage to the cooker.